Space Marine was the core rules box for a few years. Its focus was on Infantry with allowances made for the odd support Titan. In 1994, Titan Legions was released. It wasn't a supplement but a full blown rules set and box. It accompanied the Space Marine box and you didn't need both to play Epic.
The box set itself was the fulfilment of a long promise – a plastic Emperor Titan! These Titans were incredibly powerful, being able to level armies within a turns shooting. Also as part of the box were two Ork Mega-Gargants, the Orkish answer to Emperor Titans. On top of this, each army received some new toys. The new toys consisted of a raft of new anti-flyer guns, Knights (for the imperials) and company cards that allowed the fielding of Gargant big mobs, Titan detachments, and super heavy war machines.
This box was a welcome addition to second edition, providing more troops, options and Tactics as well as a slight rules Tweak that closed a few of the many loop-holes. The box contents were well worth the money spent and contained enough to get started with the Epic gaming system. After launch, many new units were added to the Epic system through White Dwarf, including: Space Marine Razorbacks, the long missing Nurgle and Slaanesh Daemon Engines, Eldar Scout Titans, Imperial Flyers, Chimera variants and the powerful Ordinatus.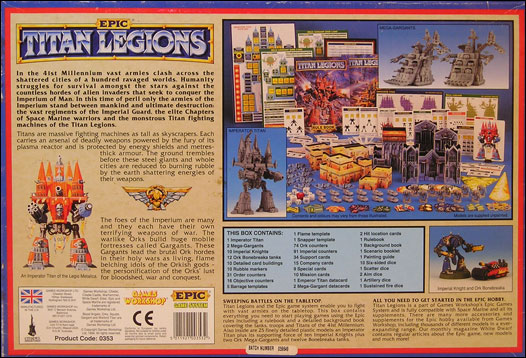 Box contents:
1 Imperator Emperor Titan
2 Mega Gargants
12 Bonebreakas
10 Knight Paladins
10 card buildings – 6 Ork, 4 Imperial
10 Rubble markers
31 Order counters (8FF, 8C, 8A, 7FB)
16 objective Counters (2 x 1-8. One set of green and red)
5 Barrage templates
1 flame template
1 snapper template
74 ork megagargant counters

16 gargant Order counters
14 Damage/Destroyed
2 each Powerfield/Fire/Hull markers
8 Grotz
7 Boyz
7 Nobz
2x Kaptin
12 Shouting counters

91 Imperial Counters

10 Hellstorm ammo
15 Damage/destroyed
2 Void shield marker
2 Reactor breach
23 Plasma counters
19 Tech guard counters
18 Tech guard support counters

10 mission cards (5 ork, 5 imperial)
1 emperor titan data card
2 ork mega gargant data cards
1 imperator titan hit location card
1 mega gargant hit location card
Rulebook
Background book (codex titanicus)
Scenario booklet
Painting guide/how to play guide
Reference sheet
10 D6's
1 Scatter dice
1 artillery dice
2 aim dice (1 up-down, 1 left-right)
1 sustained fire dice
1 Cardboard Imperator!

Data cards:

Special card – Knight Baron
Special card – Imperator Titan
Special card – Reaver titan
Special card – Mekboy Gargant
Special card – Gargant bigmob
Special card – Warlock
Special card – Warlock Titan
Special card – Squat Colossus
Special card – Squat Cyclops
Company card – Knight Paladin household
Company card – Warlord titan battlegroup
Company card – Reaver titan battlegroup
Company card – Techguard titan defence
Company card – Techguard mechanised assault
Company card – Stormblade company
Company card – Leman russ company
Company card – Imperial Guard tactical company
Company card – Space Marine tactical company
Company card – Squat warrior brotherhood
Company card – Eldar Warhost
Company card – Phantom Titan Squadron
Company card – Bloodthirster
Company card – Mega gargant
Company card – Goff clan
Support card – Warhound Titans
Support card – Knight Paladins
Support card – Knight Lancers
Support card – Knight Errants
Support card – Knight crusader
Support card – Knight castellan
Support card – Stormblade
Support card – Leman Russ squadron
Support card – Techguard mechanised heavy ptn
Support card – Techguard support platoon
Support card – Hydra battery
Support card – Chimera detachment
Support card – Manticore Battery
Support card – Basilisk Battery
Support card – Space Marine Thunderhawk
Support card – Landraider squad
Support card – Tactical squad
Support card – Imperial Guard platoon
Support card – Eldar Faclon detachment
Support card – Eldar firestorm
Support card – Eldar nightwing
Support card – Eldar guardian squad
Support card – Ork bonebreakers
Support card – Magnum Megacannon
Support card – Ork Braincrushas
Support card – Squat Thunderfire battery
Support card – Overlord airship
Support card – Squat warrior detachment
Support card – Gyrocopter squad
Support card – Chaos Juggernaughts
Support card – Chaos Beastman
Support card – Chaos space marine detachment
Support card – Banelord titan
Support card – Daemon engines of Khorne
---