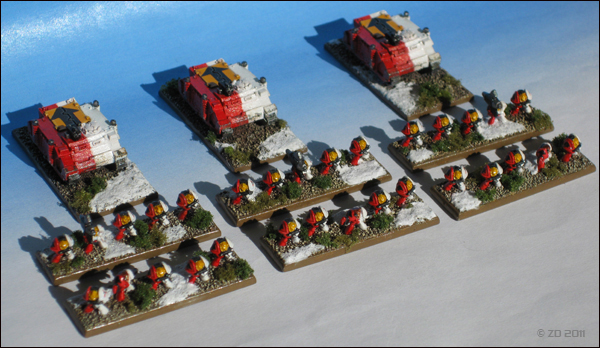 The Stormlords have landed! What game set in the 41st Millennium wouldn't be complete without Space Marines? Currently, I have two favorite Chapters: The Sons of Medusa and the Stormlords. The Sons of Medusa I hope to cover in future. However, I really love the the colour scheme of the Stormlords. A 50% red and 50% white split vertically down the armour with the company colour emblazoned on the Marines helmet or a vehicles turret or doors. Couple that with the fact that they are a white scars successor chapter and it would be remiss to not have a few detachments of bikes racing about the place!
Painting the first units
The paint scheme, while quite striking, is fairly easy to achieve. I will be painting the large chunk of my Stormlords from the second company which uses golden yellow markings for the helmets and vehicle turrets. You could use other company colours for the helmets and turrets. For example, green for the 4th company or blue for the 9th company.
I start with priming the miniatures white. I then give the miniatures a few thin coats of white to solidify the primer. The left half is then painted in thinned GW Blood Red. This is followed by a very thinned wash of CDA Brown Ink mixed with blood red - you need to ensure it fills the recess. Finally blood red was used to re-highlight with Vallejo Game Colour orange mixed for the extreme edges. The white was washed with a very thinned down wash of CDA Lupin Grey and the deep recess was washed with a thinned down mix of lupin grey and brown ink. Pure white was then applied to the raised and prominent edges. Black was applied to the weapons and golden yellow to the helmets or turrets.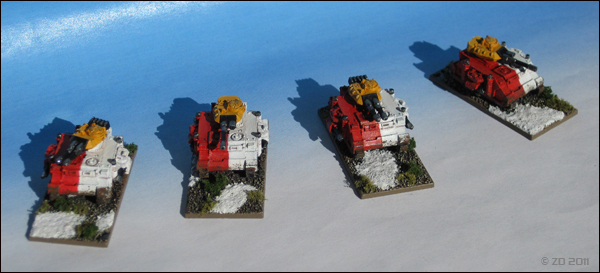 Weathering and bases
The bases were sanded then washed with brown and black ink. This was followed with a drybrush of GW graveyard earth and finally a light drybrush of CDA bone. The snow was a made with a mix of Bicarbonate soda, PVA glue, gloss varnish and white and applied in chunks over the base. Woodland Scenics flock was then applied to give the impression of bushes.
I had some fun weathering the vehicles. First I sponged on GW Charadon Granite onto the lowers areas and access points followed by a lighter sponge of CDA Gun Metal to simulate scratches and dents. I then used MiG Dark Earth pigment with some odourless turps to fix it in place. I then used a heavy graphite stick to rub along the extreme edges and tracks to simulate worn metal. The overall effect is of tanks that have been in action, grinding over wet mud.
---